shrines
The Shantytown of Golden Hill
Positive and negative forces constantly pull on our being daily--sometimes physically, like gravity and in other cases, mentally or emotionally…and just as life is not black and white, nor are our desires. Many of these shrines hold double meanings and in some cases triple… and as in life, nothing is ever truly what is seems. One symbol may allude to another which may in turn lead to another; constantly revolving and transforming as we cycle through the stages of life in search of a higher meaning and spiritual enlightenment.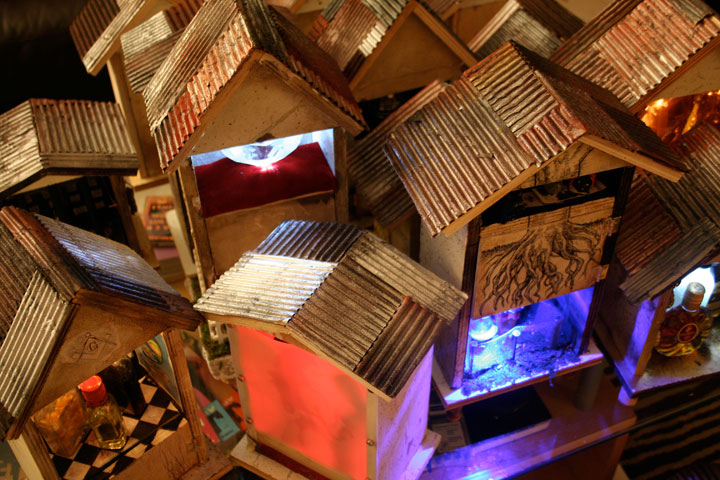 Group shot of a multi media, sculptural installation entitled; SHANTYTOWN OF GOLDEN HILL. 33 individual shrines, some equipped with light, sound, artifacts...etc
Green is the New Black is shrine to celebrate the Earth and the new trend to be more environmentally friendly. Hopefully the trend will become a lasting practice of conservation and true way of life.
The "Brain" Cell is a shrine for freedom…mental freedom. We can only become what we think and if your not mentally free you will never be physically free. The key is inside of us all to become what ever it is we "think" we can become.
G.O.A.T is an acronym for Greatest Of All Time and the work and commitment it takes to become a world-class athlete. It also represents the desire to achieve accolades, be admired and motivate others to be their physical best.
All God is One God is a shrine dedicated to faith. Simply put; all God is one God.
Deep Rooted is a tribute to family, more importantly the black family. As displayed on the lower walls, the progression begins with pyramids on the left, transports to slave quarters shown on the back wall and a scarecrow on the right and final wall, which means we can't be afraid to claim our future. The black male figurine is placed "underground" below the roots with a lantern to light his path. The female figurine is broken and placed on the top tier with memorabilia of a white family whom she serves as a nanny to nurture and grow their generations while remaining separated from her own. Despite all of this, the beautiful sounds of my family can be heard to symbolize that regardless of the past, a strong black family remains.
Subsidized represents the desire for all of us to know where our food is coming from and the process it takes to reach our holiest shrine—our bodies.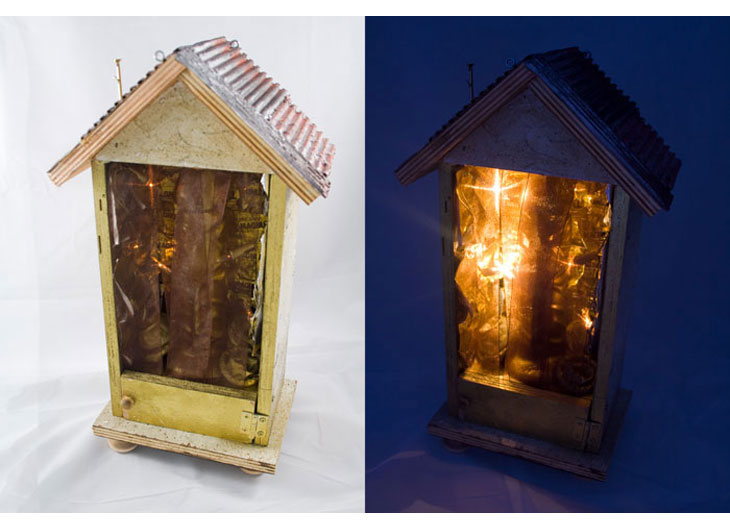 Bring Forth is a shrine representing the desire for sexual reproduction.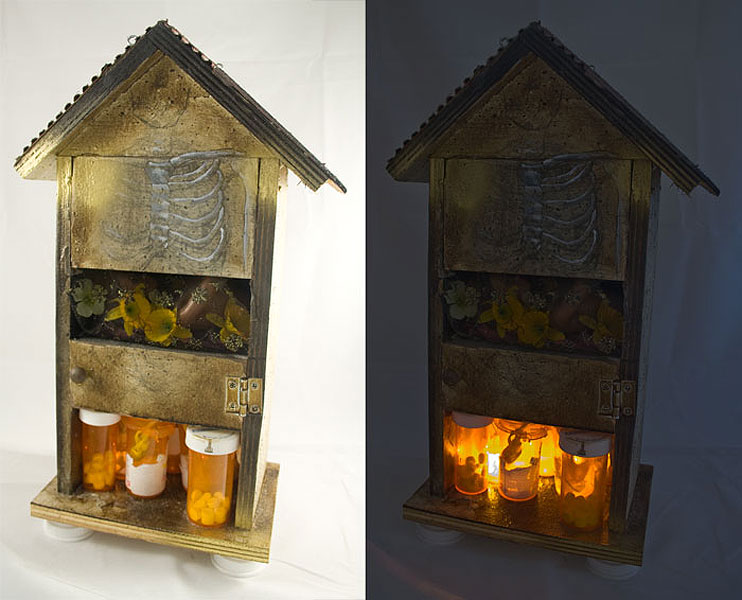 The Final Resting Place of Henrietta Lacks
The Final Resting Place of Henrietta Lacks is dedicated to health. The latest health care debate is the inspiration for this piece. Henrietta Lacks was poor black woman who died of cervical cancer. After her death and unbeknownst to her family, her cells were cultured to create an immortal cell line for medical research. This is now known as the HeLa cell line and once served as a valuable cure for polio. I find it ironic how the same people who want and need health care are strategically abused for the purpose of saving millions of lives while losing their own. This is my tribute to Henrietta.
Corn, Wine & Oil is a shrine dedicated to Freemasonry and the enlightenment I have learned within the walls of the lodge.
The Product Is You. Propaganda is ever present in the media and this shrine illustrates just that—a docile sheep being blasted by the messages of the media that people are inundated with every day. The speakers play a mixture of media sounds, news, reality shows and commercials.
The Seventeen Pyramids of Power alludes to power and more importantly how corporations use the ancient symbol of the pyramid within their logos to harness its power.
Little Remy Tonsure is a play-on-words for the subculture of African American women and the battle of their hair. Billions of dollars are spent annually so black women can relax, straighten and implant their hair in hopes of looking more like their white counterparts. "Remy" is the type of Indian hair that is most sought after while "Tonsure" is an Indian ritual of cutting the hair from the scalp to renounce vanity. Ironically, the hair from this ceremony is later sold at highly inflated prices to beauty shops across the planet and the majority of it ends up on the heads of black women. Go figure.
Save Yourself is a monument to wealth and money. We, as Americans, are always looking for the fast track to riches and viewed by many other cultures as glutinous and greedy. The irony is that we do not save as much as we should and I tried to illustrate that by having the US currency outside of the piggy bank while the only currency actually making its way inside for saving is the Chinese Yuan.
Watershed 03090202 is the actual name of the watershed that services my neighborhood. This shrine is for the basic desire for clean water. Water is now being considered a commodity rather than a fundamental human need and the resource is being privatized at an alarming rate. In upcoming years, wars will not be fought over oil… they will be fought over water.
Beautiful Surrender is a shrine dedicated to love and marriage. After being a victim of my own divorce I realized that many people tend to focus on the diamond aspect of relationships, the glamour and glitz surrounding that special day and the typical images of what an ideal relationship looks like. Instead, we should truly understand that it takes a strong foundation to build true love.
Call It Freedom is for military might but at the same time a shrine dedicated to Americans love for violence and guns.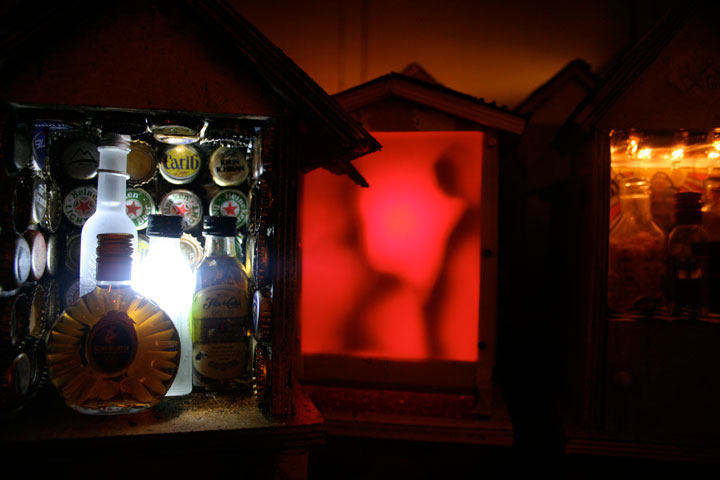 Detail shot of three of the 33 shrines. From left to right; Drink "Light" at Uncle Winston's Rum Shop, The Flesh Room and Corn, Wine and Oil.
Opportunity II is for our guardian angles in our lives. Even if the door may look old and decayed, our angel may be waiting for us on the other side.
Three Stages of Man is for the desire of time, some wish to regain lost time and others wish they had more time in a day. The three stages are childhood, adulthood and old age and each can be seen in the painting; Three Ages of Man by Titian which is on the inside walls of the shrine. The clock on the outside illustrates how one "should" progress through these stages—first by gaining wisdom, which in turn will gives us strength and then finally, beauty.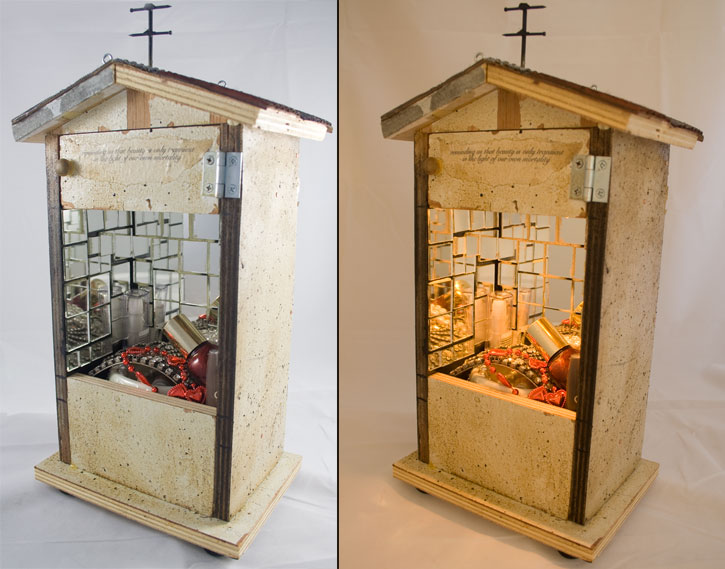 Mirror Mirror is the vanity shrine. The object in the center of this piece is the viewer's own reflection.